Story
Description
Dear Donors,

I am reaching out to you today with a heartfelt appeal on behalf of a shattered couple, Srilekha and Raj, who are facing an immense challenge in their lives. Srilekha, a vibrant and talented young woman, recently completed her Masters at the age of 25, only to be diagnosed with Rheumatic heart disease. This unexpected turn of events has left their lives in turmoil, both emotionally and financially.

The Journey So Far:

Upon receiving the devastating news, Srilekha and Raj sought medical advice from local doctors in Gudiyatham. The doctors informed them that her condition required specialized treatment and recommended they visit specialists in Chennai. With great difficulty, they managed to reach MIOT Hospital, where Srilekha underwent a major surgery just five months ago. The surgery involved mitral valve repair, tricuspid valve repair, and aortic valve repair, which significantly improved her condition.


Current Situation and Urgent Need:

However, Srilekha is now facing new challenges. She has developed severe tricuspid regurgitation and moderate mitral stenosis, for which she requires a redo surgery. The recommended procedure is a Mitral and Tricuspid valve replacement, estimated to cost Rs.3,50,000 (Rupees Three Lakh Fifty Thousand only). Unfortunately, the financial burden of the initial surgery has left the family in dire straits, making it impossible for them to bear the cost of this essential procedure.


The Family's Background:

Srilekha, Raj, and their son, Yudhan, live with Srilekha's parents. Despite their humble circumstances as farm laborers, they have always strived for a better future. Srilekha's educational pursuits were a ray of hope for the entire family, as they envisioned her securing a stable job to provide support for all of them. However, the unexpected medical expenses have drained their resources, leaving them emotionally overwhelmed and financially incapable of coping with the situation.


Your Support Matters:

We humbly request your support in any way you can to help Srilekha rebuild her life. Your contribution, no matter how big or small, will make an immense difference to this young woman and her family. By providing financial assistance for the redo surgery, you will not only alleviate their burden but also restore hope and provide a second chance at a healthy life for Srilekha.
How to Contribute:
If you would like to contribute to Srilekha's cause, you can [insert donation options here]. Every donation counts and will go directly towards the surgery cost, ICU and hospital stay, post-operative investigations, and medications. Your generous support will enable Srilekha to receive the urgent medical care she needs and help her family navigate through this challenging phase.




In the face of adversity, it is our collective empathy and compassion that truly shines. Let us come together to support Srilekha, a young woman with dreams and aspirations, who has been dealt a difficult hand by fate. Your contribution will not only provide her with life-saving medical treatment but also remind her that she is not alone in her journey. Thank you for your kindness and generosity.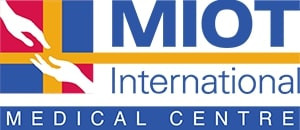 A Fundraiser By
Chime Miot Hospital
---
Top 5 Donors

Ramachandran Kandaswamy

$ 100

C P Raja

$ 100

Vijeethrakshakar Vijhaipranith

$ 100

NANTHAGOPAL KALISAMY
$ 67

Rajesh kannan vellaichamy
$ 50
---
Supporters 10